CSA Certified 3 inch mini bench grinder buffer polisher with multifunctional flexible shaft
Product Detail
Product Tags
This is really a multi-purpose tool capable of carrying out grinding, polishing & sanding operations on small components.
One side is fitted with a grey grinding stone for sharpening (chisels, drill bits and tools), reshaping, deburring etc...
The other side is fitted with a soft polishing wheel, able to polish and smooth all kinds of materials, such as precious metals, non-ferrous metals, stainless steel, glass, porcelain, wood, rubber and plastic.
To add another level of versatility, we also include a power take off to fit a flexible rotary shaft. The rotary shaft has a 1/8" chuck, and we include a accessory kit enabling a wide variety of applications, such as engraving, carving, routing, cutting, sanding & polishing.
The grinder sits on 4 rubber feet to provide a stable platform. It can also be secured to a work bench using the 4 mounting points provided.
1.  0.4A induction motor for silent reliable performance
2.  Includes a 3" x 1/2" grinding wheel and 3" x 5/8" wool buffing wheel
3.  40" Long x 1/8" chuck Multifunctional flexible shaft available
4.  Al. Motor Housing and Base.
5.  Include 2pcs PC eye shield & steel work rest.
6.  CSA certificate
1. Silence and free-maintenance induction motor.
2. Grinding wheel & wool buffing.
3. Multi function flexible shaft available.
4. PTO shaft and kits box available.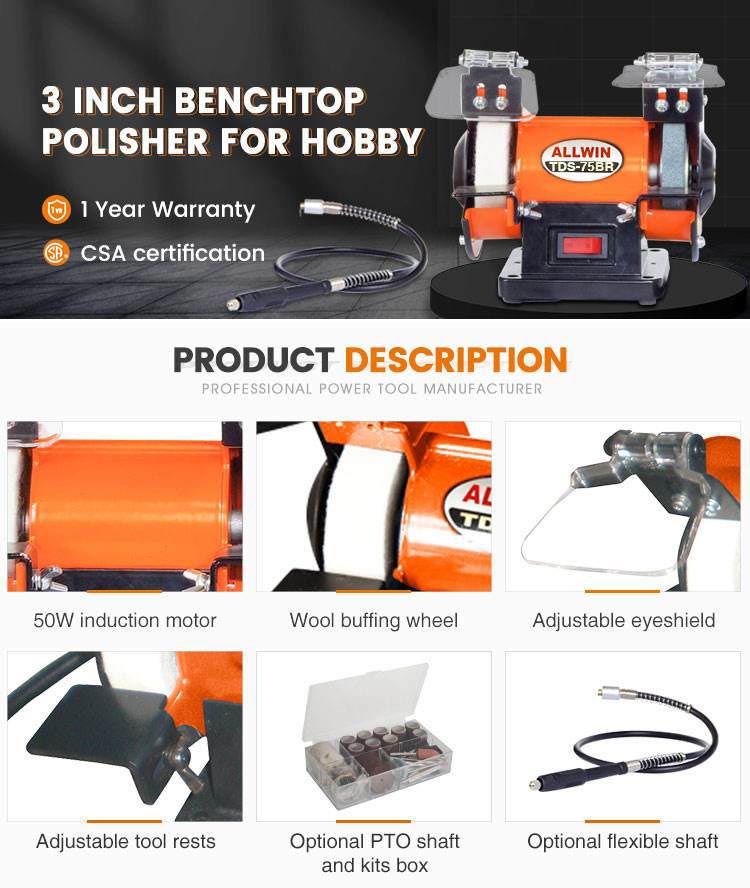 Model
TDS-75BR

M

otor(Induction)
0.4A
Voltage
110~120V, 60Hz
No Load Speed
3580rpm
Grinding Wheel
3" x 1/2" x 3/8"
Grinding Wheel Grit
80#
Polishing Wheel
3" x 5/8" x 3/8"
Flexible Rotary Shaft Length
40"
Flexible Rotary Shaft Speed
3580rpm
Flexible rotary shaft chuck
1/8"
Safety Approval
CSA
Net / Gross weight: 2 / 2.2 kg
Packaging dimension: 290 x 200 x 185 mm
20" Container load: 2844 pcs
40" Container load: 5580 pcs
40" HQ Container load: 6664 pcs
---
---
Write your message here and send it to us