New arrival CE certified 18"(458mm)variable speed scroll saw with arm bevel cutting on both left & right
Product Detail
Product Tags
Remember when you could make intricate and artful cuts? Let the good times scroll with the ALLWIN 458mm variable speed scroll saw. Because it's a ALLWIN product, your scroll saw comes backed by a one-year warranty and on-line service, all to make sure you remember ALLWIN.
1. Features a variable speed 120W motor to cut 20 to 50mm thick wood, plastic or even non-ferrous metal.
2. Upper arm bevels up to 45°to both left and right for precise angled cuts.
3. Parallel-arm design combined with heavy duty steel construction minimizes vibration and reduces noise.
4. Upper arm locks in raised position to allow for fast blade replacement and easy interior cuts.
5. Supply 550 ~ 1600SPM cutting speed and 20mm cutting stroke.
6. Adjustable material hold-down clamp, which can also protect hands from been hurt by the blade.
7. CE certification.
1. Variable speed design
Variable speed can be adjusted from 550 to 1600SPM by turning a knob, this allows fast and slow speed cutting as per demand.
2. Optional saw blade
Equipped 133mm length both pin and pinless saw blades @ 15TPI & 18TPI each, pinless blade holder included. Optional saw blades of 10TPI, 20TPI, 25TPI & even spiral blades @ 43TPI & 47TPI are available upon request.
Unique blade holder accepts both pinned and pinless blades.
3. Dust blower & dust port
The adjustable dust blower coupled with 38mm dust port clears sawdust from your work area to give you a clear sight so that you can focus on your woodworking.
4. Blade storage box
Designed side blade storage box.
5. Optional Foot Switch
Optional foot switch release both hands to do more precise cutting.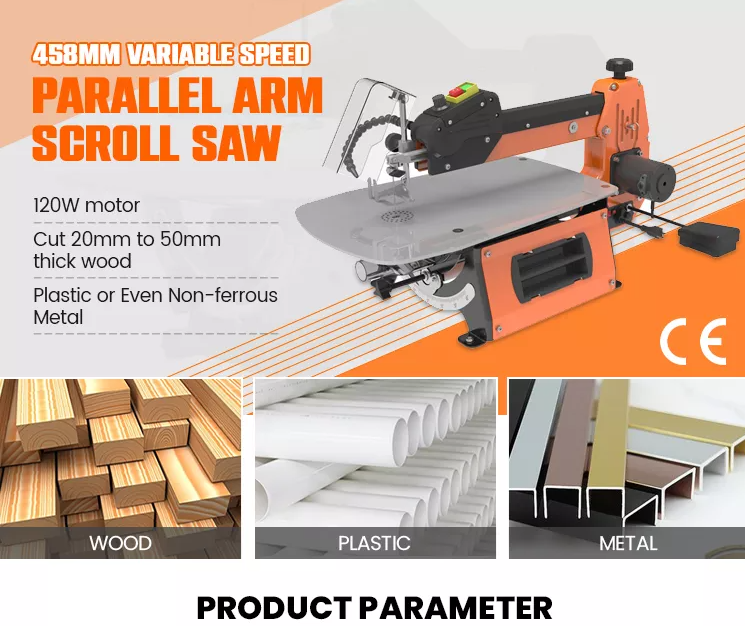 M

odel No.

S

SA18V

M

otor

2

20-240V,50/60Hz, 120W DC Brush Motor
Blade length
133mm
Equip blade
15TPI & 18TPI 1pc each pinless
Cutting Capacity
50mm @ 90° & 20mm @ 45°
Arm tilts
-45°~ 45°
Table size
540 x 350mm
Table material
Power Coated Steel
Base material
Power Coated Steel
Safety Approval
CE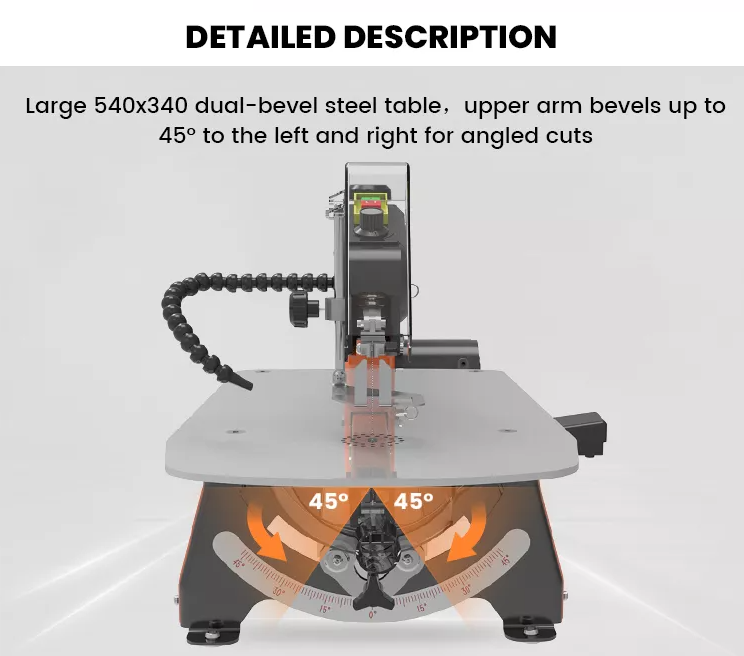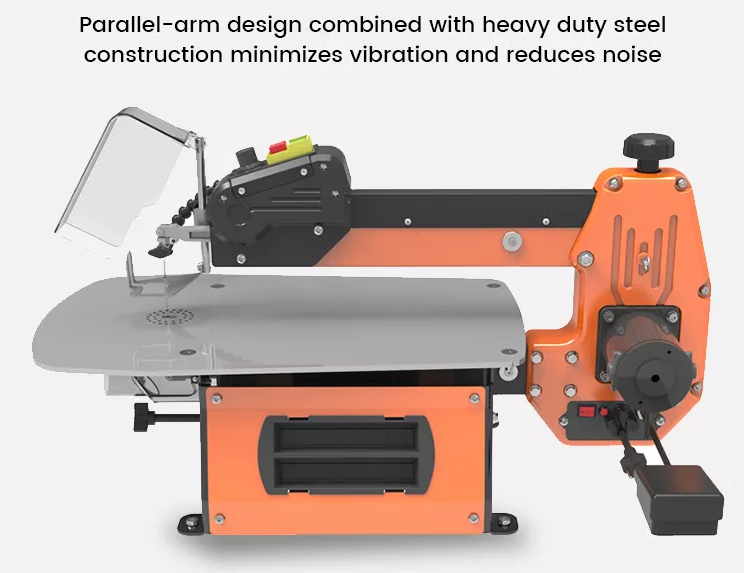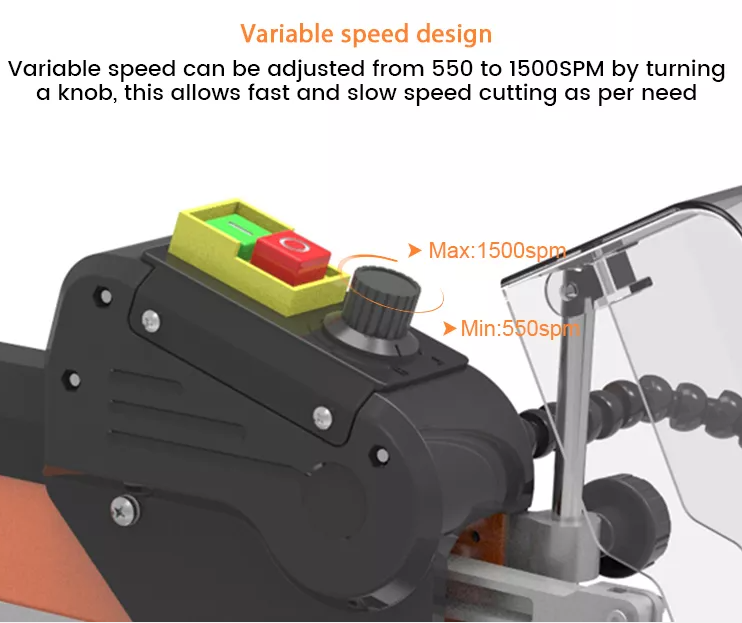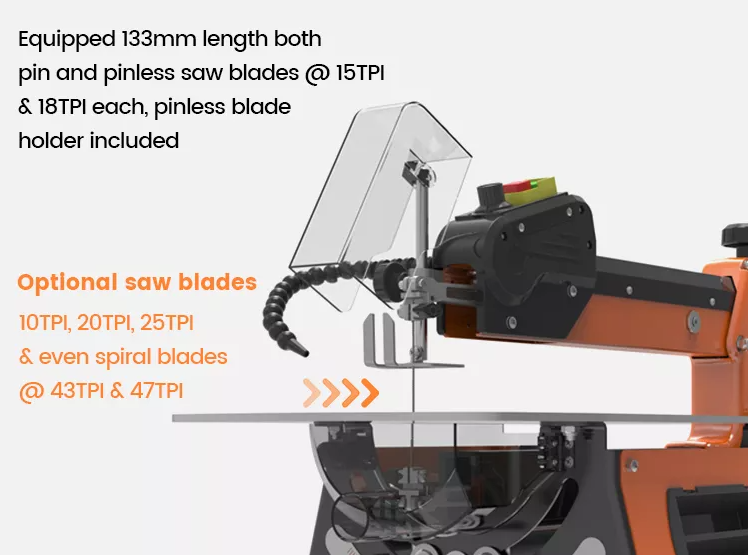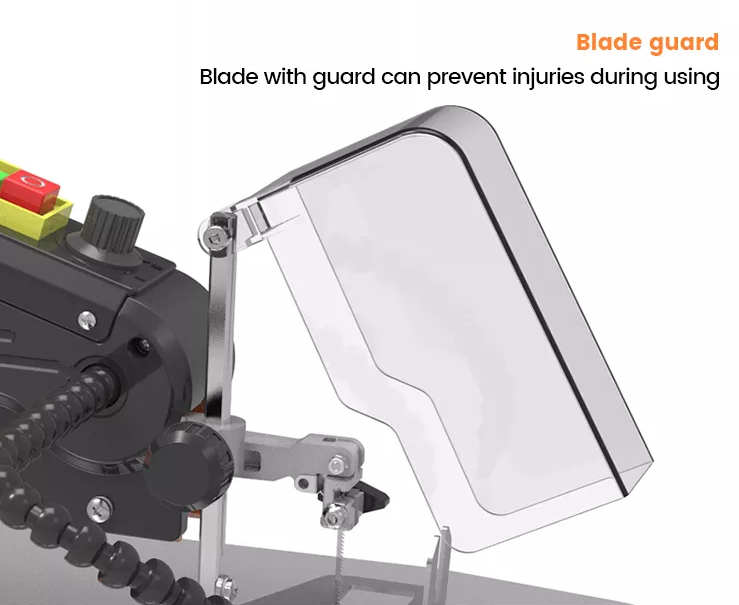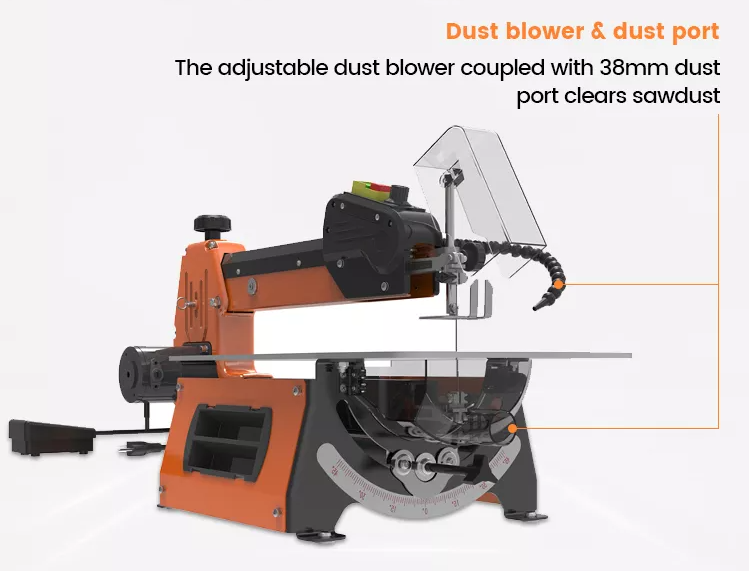 Net / Gross weight: 18.9 / 21 kg
Packaging dimension: 830*230*490mm
20" Container load:280 pcs
40" Container load: 568 pcs
---
---
Write your message here and send it to us