CSA certified 15 inch variable speed floor drill press with cross laser guide & digital drilling speed display
Product Detail
Product Tags
Remember when power tools were actually powerful? The Allwin 15-Inch Variable Speed Drill Press equips with 1hp(8.6A) induction motor meets the needs of both home and professional users. This model includes a full four inches of stroke capacity, allowing users to drill through materials up to four inches thick. With such a large spindle travel, drilling holes through a 4x4 board has never been easier. Adjust our variable speed anywhere from 280 to 1000 RPM with the simple turn of a lever, or make a quick belt adjustment for variable speed ranging from 1000 to 3300 RPM. The digital readout reports the current RPM of the machine for increased accuracy when drilling. The 12-inch by 12-inch cast iron table pivots up to 45 degrees in both directions while the laser pointer ensures precise holes. The chuck accepts bits anywhere from 1/12 to 5/8 inches in size. Cast iron frame and base gives the machine a hefty support system to prevent the drill press from walking or vibrating. Our 15-Inch Drill Press also includes a optional work lamp to illuminate the work table and convenient onboard storage for the chuck key. This beast measures in at 25 by 12 by 63 inches in size with a weight of 154 pounds. Remember when you had the capacity to drill through the thick side of a 2x4 in one smooth stroke? Remember Allwin.
1.15-inch variable speed floor standing drill press, 1hp powerful induction motor enough to drill through metal, wood, plastic, and more.
2.Max 5/8" chuck capacity.
3.Digital drilling speed display 280 ~ 3000RPM.
4.Optional cross laser guided.
5.Optional industrial goose neck lamp.
6.Sturdy cast iron base.
7.CSA Certification.
1. Cross Laser guide
The laser light specifies the exact spot that the bit will travel through for maximum precision during drilling.
2. Drilling Depth Quick Setting System
Adjustable depth stop for accurate measurements and repetitive drilling
3.Variable Speed Design
Adjust the speed as needed with a simple move of the lever and received the same power and torque through the entire speed range.
4. Digital Speed Readout
The LED screen displays the current speed of the drill press, so you know the exact RPM at every moment.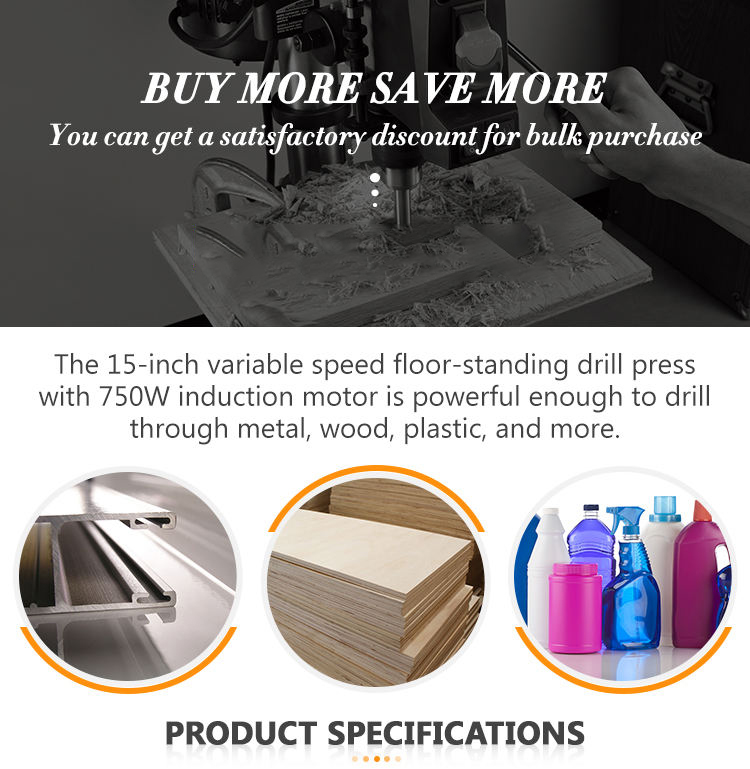 M

odel

D

P15VL
Max chuck capacity
3/4"
Spindle travel
4"
Taper
JT33/B16
NO. of speed
Variable speed
Speed range

6

0Hz/

53

0-

310

0rpm
Swing
15"(380mm)
Table size
306*306mm
Colum

n

 di

ameter

73mm
Base size
535*380mm
Machine Height
1650mm
Net / Gross weight: 70 / 75 kg
Packaging dimension: 1440 x 570 x 320 mm
20" Container load: 112 pcs
40" Container load: 224 pcs
40" HQ Container load: 256 pcs
---
---
Write your message here and send it to us